I went from frustrating fights, resentment and growing distance with my man, to discovering the secrets to a fulfilling and happy relationship…
Hey guys! I'm Karolina, this is a photo of my partner Gabriel and me. We run the SimplyTogether Blog together.
We actually kicked things off over 10 years ago when we met at a party of a mutual friend and immediately felt a spark. 
Afterward, I kept on bumping into him at social events. One thing led to the next and a couple of months later we were officially dating.
Initially, we were absolutely crazy about each other and every moment together felt like magic! 
Things with him were extremely special, and I was excited that I had finally found the one...
But unfortunately, our honeymoon phase didn't last… 
Already 6 months into our relationship, the magic took a back seat and we had our first arguments.
From there onwards, things only took a turn for the WORSE. 
I fought with him more and more. 
Things got so bad that we eventually broke up. 
I was absolutely heartbroken. 
Luckily, neither of us had the strength to stay apart for very long. So we got back together a month later. 
But the vicious cycle of the honeymoon phase vs. heartbreak didn't end there. 
It took me YEARS to finally figure out how to snap out of this hurtful pattern. 
And along the way, a lot of damage was done that caused a lot of hurt and broken trust. 
I no longer felt our special connection.
I still loved him, but I didn't feel in love with him anymore. 
The excitement faded, spending time together wasn't what it once was and I began to feel the distance between us... 
What's worse, I could sense Gabriel was increasingly closing down and he stopped making the many efforts he used to. 
There were no more surprises or romantic dates. 
Gone were the days of exciting weekends spent in the bedroom. 
We had finally become a boring couple.
On top of that, we silently and loudly resented each other, most of the time.
But despite all the bad…
There was still light at the end of the tunnel. 
We never truly gave up on our love and kept trying to fix things. 
Thanks to our combined efforts, we eventually overcame the numbness and disconnection of our relationship and found a way back to each other!
But WHY did our relationship initially fail so badly?!
From estranged couple to happily ever after
So the first years of our relationship were an epic failure. 
But they paved the path to our first big breakthrough; we learned how to talk so that the other would actually listen and understand!
This changed everything.
It was a HUGE DEAL. We never broke up after that and what's more, the tides turned.
Instead of growing apart, we started growing closer. We fought less and less and had FUN together again.
I felt the spark between us finally reigniting! 
I had found back to him...
Thanks to YEARS of trial and error and not giving up we had finally figured it out!
I felt like we were gonna make it! That this relationship would work and I could be happy and plan my future with him!
We had done TONS of online research, read countless books, even spoke to various counselors to try and fix our relationship.
We had to filter through dozens of "relationship experts" and generic BS advice to find out what actually worked!
All of this added up to an understanding of what truly makes a happy partnership. 
It was like the fog was finally lifting and I could clearly see WHY our relationship initially struggled and what I needed to do so that we could finally be happy together.
I learned what makes men tick. Why they can be so difficult.
I now knew how to approach Gabriel to get what I needed from him. 
We started doing exciting and romantic things again!
He was getting me flowers for no reason, leaving me cute notes when he went to work and planned little surprises for me.

Gabriel felt appreciative of me again and wanted me to FEEL it, he kept sweeping me off my feet and charming me as though we'd just gotten together.
We started doing more of the things I was really wanting again. We went on romantic walks and tried new restaurants...
We spent more time traveling, being in the outdoors, exploring and having FUN together!
The honeymoon phase was back and I felt like the happiest woman in the world! 
Gabriel and I have been together since for 10+ years now, but our chemistry is stronger than ever. So much so, people are often shocked when they find out we're not a fresh couple. 
My friends started coming to me for advice and wanted to know what my 'secret sauce' was. 
Seeing so many women all struggling with the exact same problems I once had, made me want to help...
Our experiences allowed us to put together all the most important lessons and tools, so that we could teach women how they too could turn their relationships around!

Take a second to imagine a relationship where you...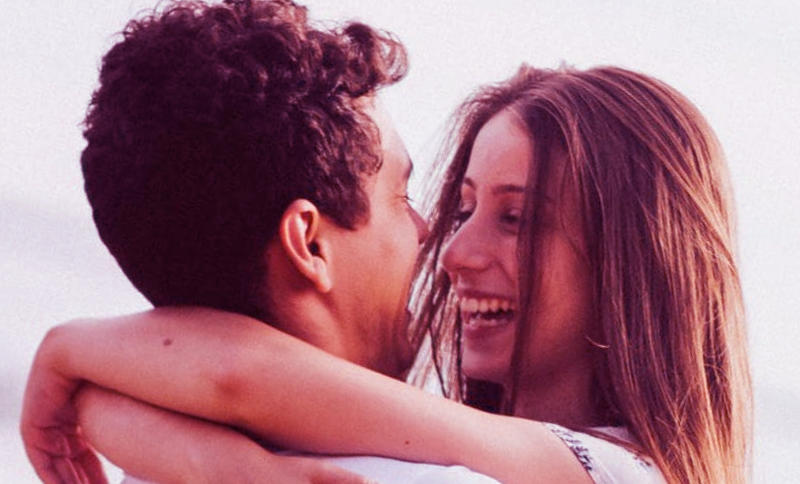 Felt wanted and desired
Wake up every morning to cuddles and kisses from him. Even though you've been with him for a long time, to feel as though you're still in your honeymoon phase. Yes, your spark can be restored...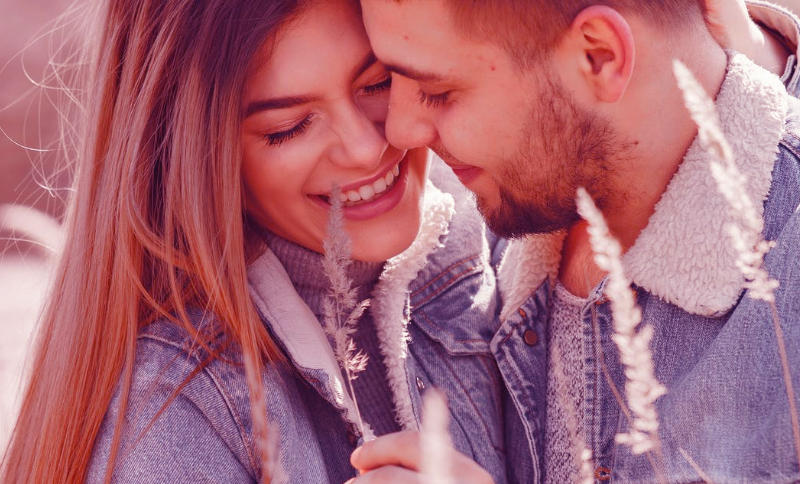 Knew how to convey your needs so he would always listen
It's easy to get what you want from him when you know how to approach and say things in a way that makes men listen.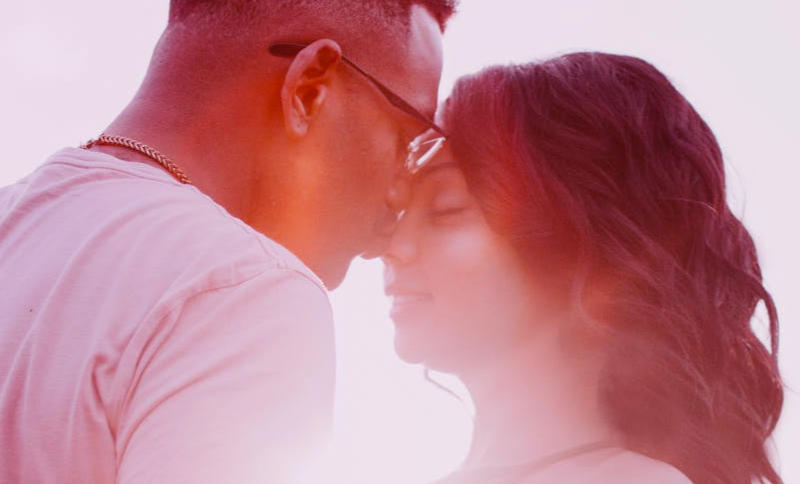 Have him appreciate, love and chase you for your time and attention
Experience him making gestures of love again. Flowers, dates, romantic surprises, he'll want to do all this, to show his appreciation of you.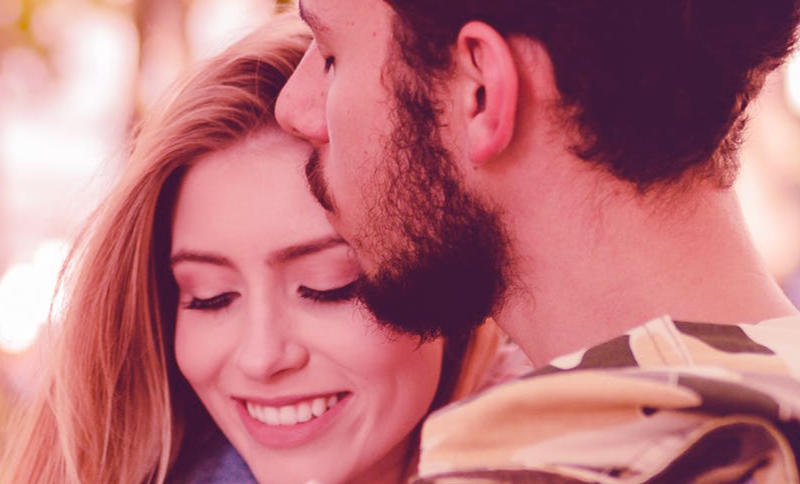 Felt secure and confident about your value
You'll have strong confidence and believe in yourself because of his admiration and respect towards you. Self-doubt will be a thing of the past.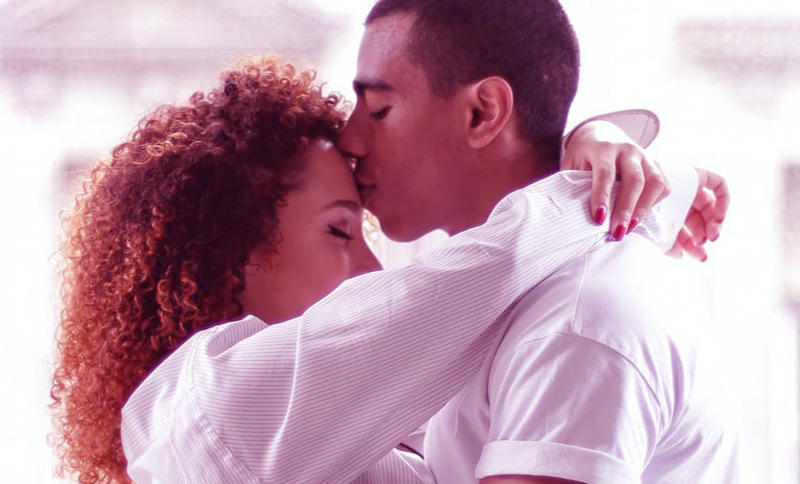 Regained stability so that you can plan your future together
You have the relationship most women only dream about. Your future with him feels secure and unfolds the way you want.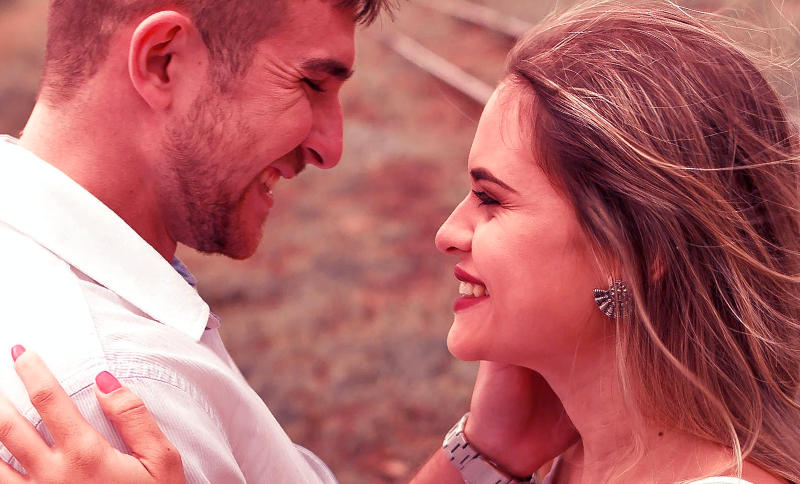 Turn your relationship around to be fulfilling, loving and fun!
Finally, you're enjoying every minute spent together and every next moment with him is something that you look forward to. You finally feel fulfilled.
Rebuild Your Relationship
Bring Back the Love, Stability and Connection with Him, When the Spark is Fading and You're Growing Apart.
Let's take a look at each of the 5 Parts and what you'll learn...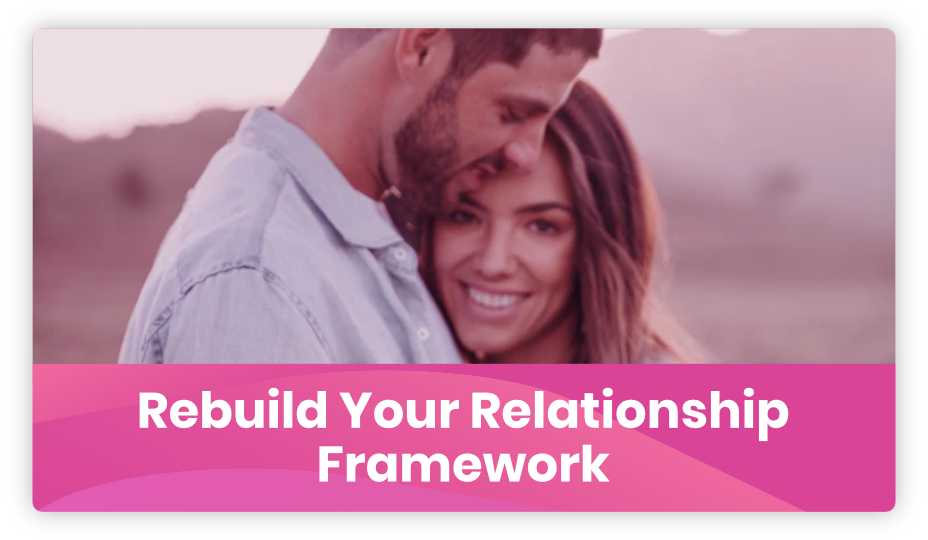 Part 1  - Rebuild Your Relationship Framework
We'll give you solid foundations that will provide an overview of where things went wrong for you and what it will take to rebuild a happy relationship. You'll get awesome tools that will help you solve pressing relationship problems. You'll also learn the most empowering attitude that will finally get you the results you've been longing for.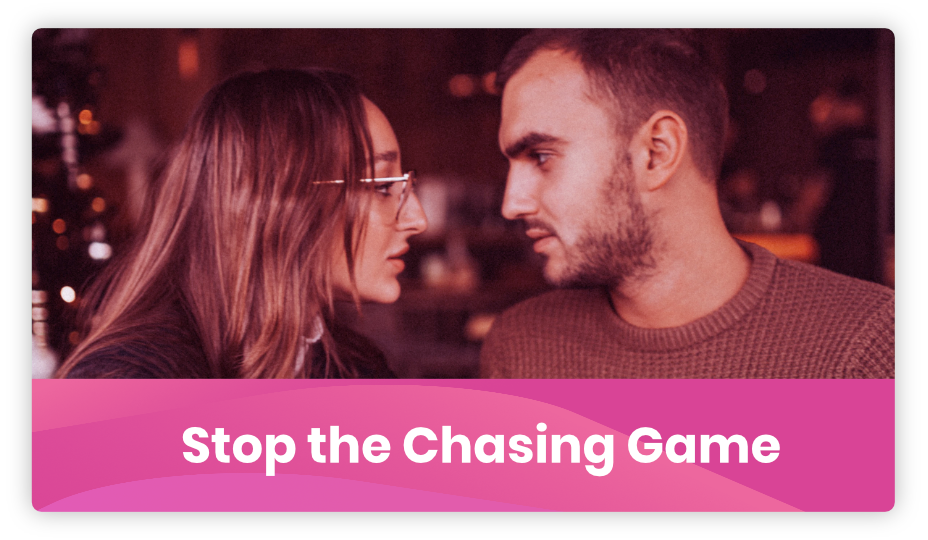 Part 2 - Stop the Chasing Game
Did you know that most women keep on falling into the same common pitfalls when it comes to trying to improve their relationship? You'll learn to side-step these draining behaviors that not getting you what you actually want. Additionally, we'll show you why sacrificing your needs for him doesn't work and how to regain a true sense of control in your relationship.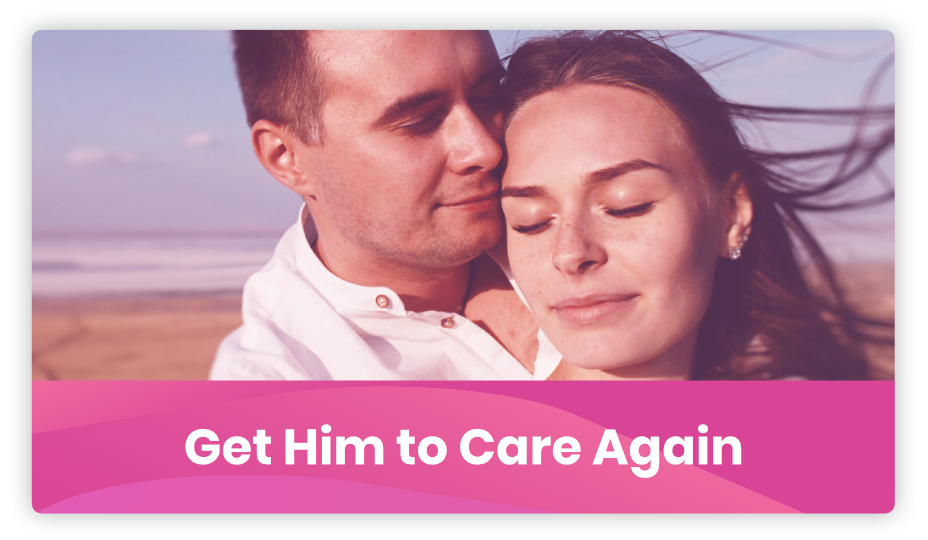 Part 3 - Getting Him to Care Again
Wouldn't it be nice if your man finally noticed all of your endless efforts? For him to express his appreciation and offer his support more? Here we'll explain the best strategies and approaches that will help you get there! You'll learn why and when to set boundaries, how to finally get him to take you seriously and give you the care and support that you need.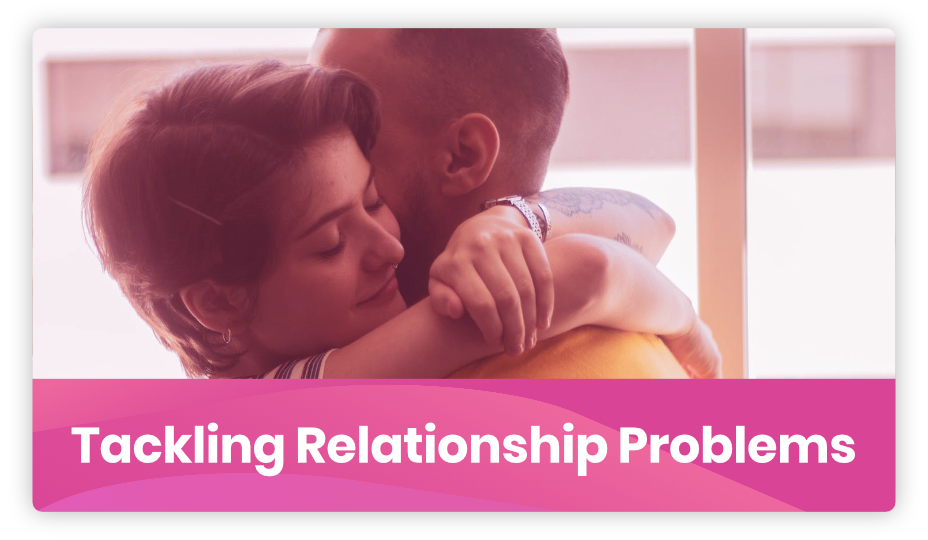 Part 4 - Tackling Relationship Problems
You are not doomed to endlessly struggle with the same problems in your relationship. Things can change and deeply rooted issues can be resolved! There are practical steps we'll teach you, that allow you to break the endless cycle of problems with him. You'll also learn the ultimate tool to rebuild your relationship.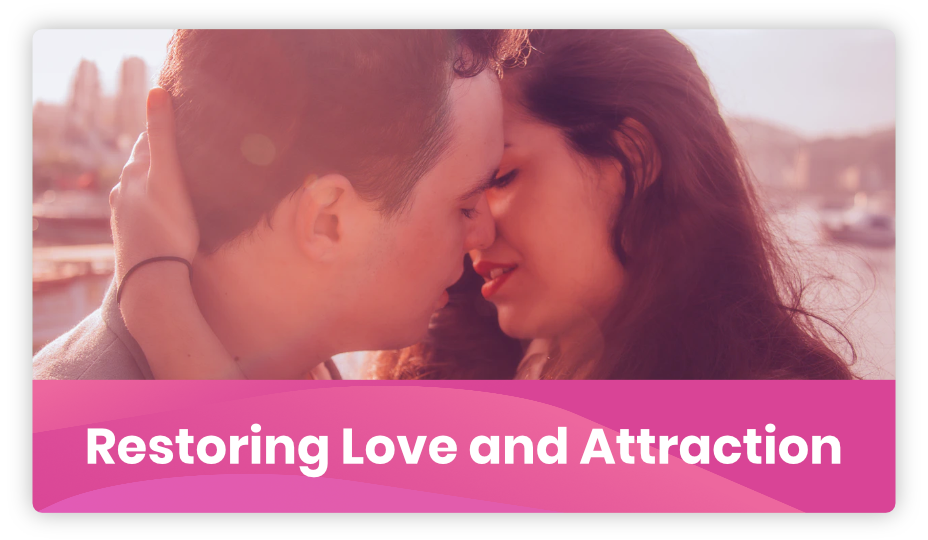 Part 5 - Restoring Love and Attraction
If you've ever felt alone and disconnected from him, then you know how heartbreaking it can be. But don't worry - there is a way out! We'll show you how to make room for love again and heal what's broken. You'll learn how to actually restore attraction with him and bring the magic back.
You will get...
5 Parts with 18+ Chapters
5 Parts, with over 18 Chapters in Video Training Format that will help you reconnect your relationship!
Over 4 hours of content with step by step guides and explanation videos with two relationship experts.
(And if you prefer audio-only, you can also just listen to the course instead! Whether you're on the go or in your car)
Karolina will guide you through the best ways to deal with common relationship pains and problems. 
Gabriel will share all the secret insider perspectives of men and teach you how to approach your man so that he responds the way you need him to.
Helpful Graphics + Downloadable pdfs
A ton of graphics and visuals to make everything we teach you, memorable and easy to follow. You can also download the course content in PDF format for quick referencing.
We cover everything you need to know to get your relationship back on track and turn it into what YOU want.
No matter how long you've been together, or how stuck you might feel now, know that things can change!
Meet Lorraine from North Carolina
"It wasn't so much that the relationship wasn't working... It's just that I didn't know how to work right, because I didn't have the full picture of all the different approaches and things I could be doing, to make it a happier and more joyful relationship. Rebuild Your Relationship gave me that clarity."
What Our Students Say
Amanda from Washington
"My relationship felt like it was nearing its end, I felt like I had tried everything and was lost and really didn't know what to do anymore. Having stumbled upon this course was like a godsend! It helped me make sense of what was causing my boyfriends distance. I learned to approach him differently with the attitudes and tools in the course and things are magically working between us again! He's not distant anymore!"
Ronja from Louisiana
"I honestly don't know where my marriage would be right now (or if it would be at all) if I didn't manage a last minute save with the lessons from your course. It was like I suddenly got clarity and could understand the problems that were driving me and my husband apart. More importantly, what I could do to start fixing them. It might sounds silly, but we feel closer than we have in the last six years..."
Meghann from Birghton
"Karolina and Gabriel were able to explain men to me! Finally, I get it now, I know what I was doing wrong and how it created problems for us. I get how he ticks and what to say so I get through to him and get the reaction I want. It was like someone flipped a switch and we're suddenly dating again and it's all exciting and flirty."
We've included helpful bonuses for you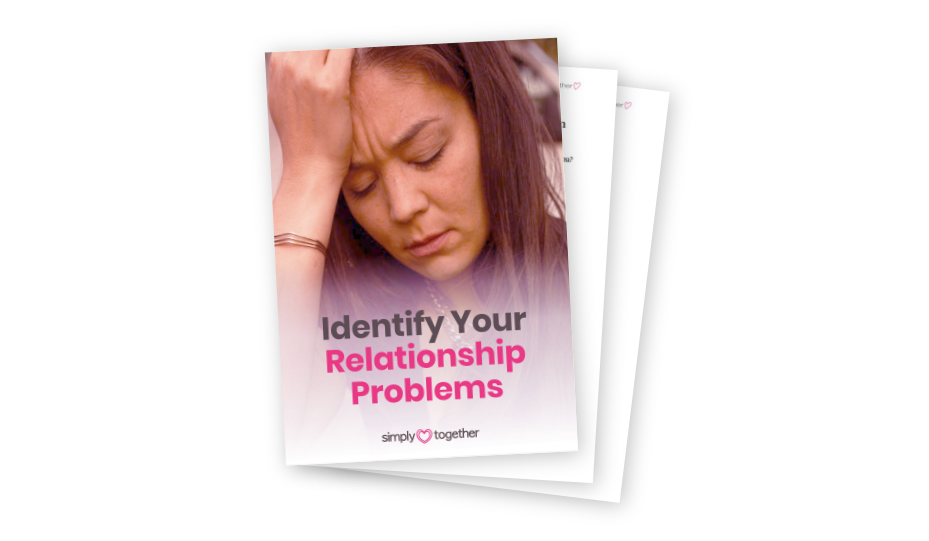 Bonus #1. Identify Your Relationship Problems ($27 Value)
Struggling without even knowing where to start? This simple guide will give clarity on the hidden problems that are not letting your relationship work.
It'll also help you discover what the most pressing issues are for you and where to get started.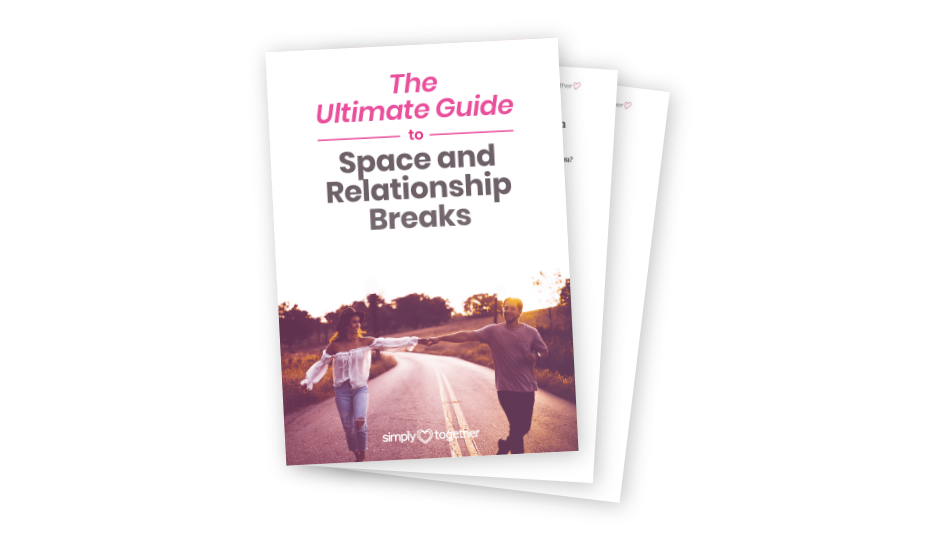 Bonus #2. The Ultimate Guide to Space and Relationship Breaks ($57 Value)
Every couple goes through times of needing space. Sometimes it's both of you, other times it'll just be him.
This guide identifies the different types of relationship breaks, their duration and teaches you a fool-proof way of how deal with each one of them.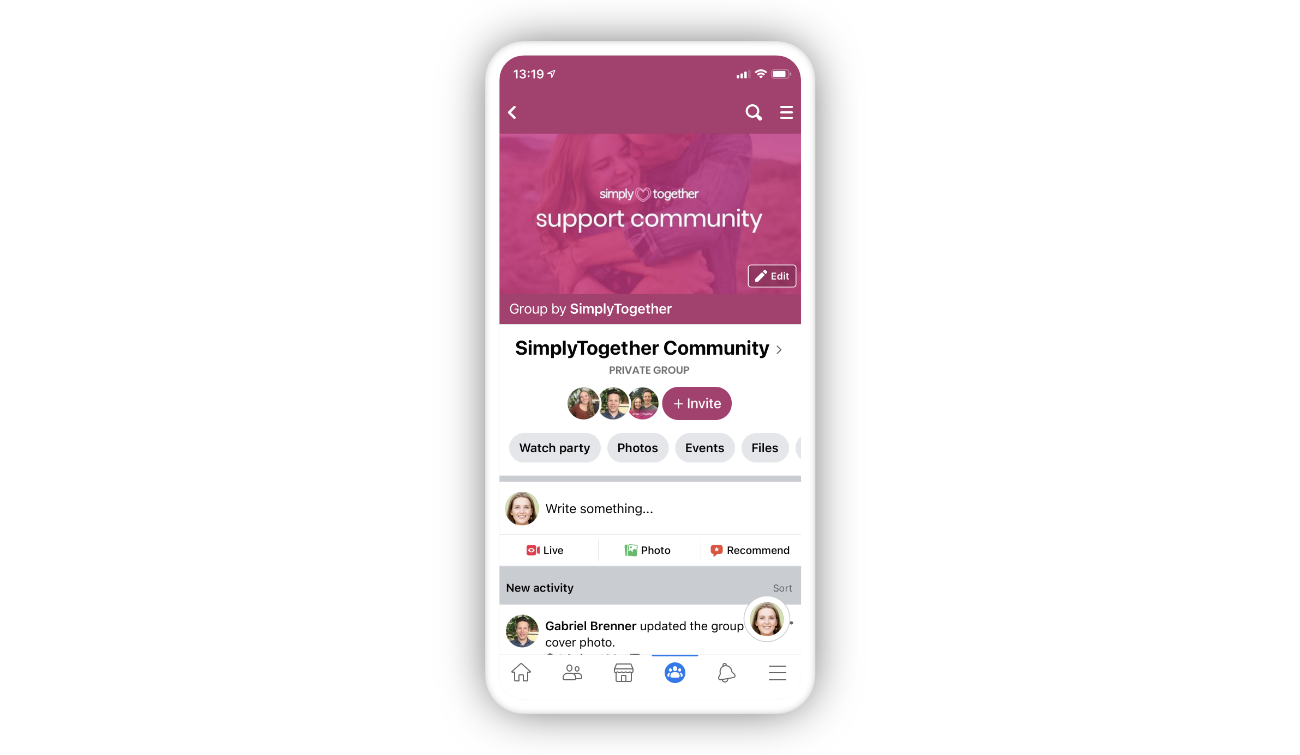 Bonus #3. Private Community Support ($47/m Value)
In this group, you'll be able to ask questions about the course and discuss strategies to tackle any stubborn relationship challenges.
You can also chat with other members to exchange experiences and ideas and share your successes!
Who's Behind All This Mischief?
Karolina & Gabriel Brenner
Co-Founders of SimplyTogether
Hi there! We're Karolina and Gabriel and we started the SimplyTogether.co blog, where we help people get the love and support they want in their relationship.
We do what we do because we've seen countless couples struggling and know from our own experience how difficult it can be to get a relationship back on track!
Over the course of our 10+ year relationship, we fought a ton. The pressure from our jobs as an Architect (Karolina) and as a User Experience Designer (Gabriel) wasn't helping our situation much either. It was exhausting and took its toll, we eventually grew apart and felt like our relationship was nearing the end. We even broke up multiple times...
But throughout our struggles and failures, we also learned and began to understand the real reasons behind our problems and how we could fix them! In time, we argued less, our connection grew stronger and we had more stability and fun in our relationship than ever before. 
All the negativity and frustration had been replaced with appreciation, love and wanting to spend even more time together. Now we joke that our disagreements can't even be qualified as arguments because we resolve them before they can even escalate.
Sure it took a lot of hard work and commitment, but it pays off 100 times over! Because you'll have all this freed up time and energy where you're not fighting to get what you want anymore and instead be ENJOYING yourself with your partner. 
Now, it's your turn to have your needs met and feel appreciated and loved!
Let's get your relationship to where you want it to be!
Got Questions? We Have Answers!
Who is this course made for?
We designed this course for women of all ages who are in long-term relationships. Our focus is to provide practical solutions for the most common and difficult problems women experience with their partners.
I'm married, is this course a good fit for me?
Absolutely. The topics we cover in the course are just as relevant and effective for married women. In fact, many of our readers that email us are married. So we made sure the course was just as good a fit for you guys!
Will this course help me get my ex back?
If you want to get your ex back, please click here to see our dedicated Ex-Back Program!
Doesn't my partner need to participate to make this work?
Nope. We focus on independently empowering women to create the change they want in their relationships, even without the direct participation of their partners. So the course is built for- and around you.
Why am I the one doing all the work, what about him?
Honestly, we know it sucks. But the course is designed so that you can get what YOU want in your relationship. And when you apply your newly learned kick-ass skills, he will be compelled to step up his game anyway!
Will this course work for me, if I'm in a long-distance relationship?
Definitely. The tools and principles we teach will help deepen your emotional connection with your man. So you might find them to be just as (if not more) relevant for you, if you're in a long-distance relationship.
How long will I have access to the course? Is there a time limit?
You get lifetime access to the course, so there's absolutely no pressure to complete it within a limited time. You can go at your own pace and whenever it's convenient for you. You'll also have free access to any new content we add to the course in the future.
Can I access the course content on my phone or tablet?
Yes! You can access it on any device of your choice and will always have the full course experience.
What format is the course in?
Great question! You'll get the course materials as video content, text and printable slides. So how you learn is entirely up to you, whether you prefer to watch or just listen.
Do you offer any refunds or guarantees?
Yes. We are so confident you'll love our product, you get 30 full days of unlimited access and if you're not happy with it, you can email us within 30 days for a full refund. 
Is my credit card secure?
We take security very seriously. That's why the billing takes place via Stripe, which is 128-bit SSL encrypted and has anti-fraud tools that run alongside payment APIs to block fraudulent transactions. In short, your transaction is 100% secure. 
What if I have another question?
You can contact us here and we'll get back to you!